Once after a long climbing walk appeared a house hidden by bushes. It was a very old building as the wood of the door was like stone with inscriptions in different colors. I looked curiously inside. It was dark. Suddenly was there an old man approaching the door. Come he said, come inside. He smiled. I looked around and he took my arm and went toward the only window in the big room with one carpet and one blanket in a corner. He opened the window and said: look!
It was a scenery of green nature with down sparkling river water. He smiled like I never had seen. He was so happy to show me that window view.
We went outside. Friends arrived as well. He should make tea. He was so tiny and had only some tissue to protect his body for cold. Then I gave him something of my bag. He looked surprised. He showed no interesse and said to sit down. He smiled to everyone so happely, and his smile was his lesson: he had everything.



Number of posts

: 578


Registration date :

2008-12-28






Number of posts

: 70


Location

: Indonesia


Registration date :

2009-02-20






Number of posts

: 791


Registration date :

2008-12-24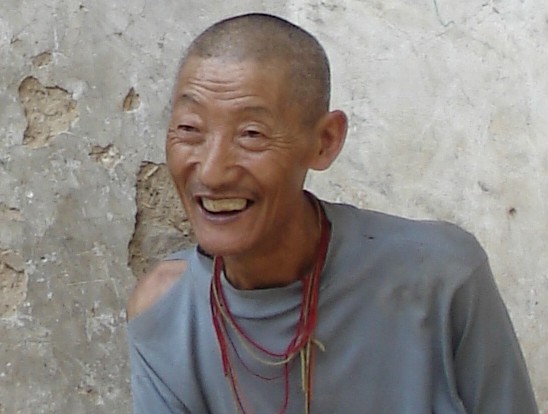 Thank you all friends for yours loving kindness which reflected in the wonderful smile of the wise in the hills. Bodhichitta. _/\_
:worship:
Taking time to relax, a break after a heavy afternoons labor. Sat in tall grass with the summer insects buzzing about. We ate stale bread we had collected from the baker in the village, the throw away, day old bread. Tasted good with gatroade! I remember as we looked around, that wonderful view of the valley as we relaxed quietly eating. The river and the mountains appeared happy in their glorious summer show. I remember the laughs, and the happiness as our eyes settled on the ugly view of Lamas old bare naked backside, robes lifted above waist, over his head for shade to read, laying face down in the grass ahead of us, reading texts, in the hot sun.

Sun bathing!

The ugly and the beauty, a lesson of one taste!





Number of posts

: 578


Registration date :

2008-12-28



:hands: Hehe!

A simple thought: was looking the news on TV and lots of images were showed. No matter what kind of images; the screen of the TV remains the same. It is not damaged by painful news or get no pink color by sweet stories.
Whether or not the TV is on, the screen is peaceful and don't judge. It is altruistic there for humans to look to and for cats to try, by a following paw, to get some balls which are rolling over the screen during a football match. The cat looks a bit like shoppers in the city streets.
The TV screen (impermanent substance) is not really to compare with the innate nature. But seen as figurative symbol; both are not tainted by whatever arises.
Primordial knowing aspect is not tainted. Peace _/\_
It was almost midnight and everyone said goodbye, sharing katags. The small light in the hall of the house was no help to undo the sleepy feeling.
A monk who got surgery on both eyes wasn't there and was certainly sleeping. He needed his rest. I had not the opportunity to wish him good recover. Saw him few times in the garden. One eye was freed from bandage, the other not. He could stay in the house till he was better.
And then at the moment I was ready to leave; there were plastic flip flops coming down on the steps. The monk stood in front of me. An overwhelming feeling of gratefulness and happiness. And then it happened. In a bowing by both; our forehead came very hard together. I looked up and thought oh oh, no! His eyes! In his one eye (red of the surgery) was to read: oh oh. He asked if I was alright!!
Even his really delicate state of health was so important, his concern toward the other was much stronger then the concern about his own situation!!
With a head full of worries which was no help at all, I said goodbye. Some days later a message came and also some words the monk had ask to let know: he was fine and the other eye was freed from bandage. _/\_
Again some weeks later my dear friend, knowing very well my worries, liked to send this news: he returned now to his monastery. He could see.

The difference between the suffer by may I be happy; and happiness by the wish may others be happy. A wonderful medicine of joy. _/\_
May all be happy and well.
https://www.youtube.com:80/watch?v=g263N4XzoZo

---
Permissions in this forum:
You
cannot
reply to topics in this forum